Testis cancer is a malignant (cancerous) growth of the testis.
Testis cancer cells can spread by breaking away from the testis tumour. They can travel through lymph vessels to nearby lymph nodes (inguinal or retroperitoneal lymph node metastasis) or distant lymph nodes such as those in the neck (cervical lymph node metastasis). They can also spread through blood vessels to the lungs or liver.
These risk factors may include a history of undescended testis and a positive family history of testis cancer. Many people who get testis cancer have none of these risk factors, and many people who have known risk factors don't develop the disease.
Testis cancer is unique in that it tends to affect younger men aged between 20 to 40 years.
Testicular cancer may cause no symptoms. The most common symptom is a painless swelling in the testis. Less common symptoms may include a change in the size or shape of the testis, a feeling of heaviness in the scrotum, a feeling of unevenness, pain or ache in the scrotum or lower abdomen.
Testis cancer may be diagnosed by an ultrasound scan of the testes and abnormal tumour marker (cancer marker) in the blood. These markers include alpha fetoprotein (AFP), beta-human chorionic gonadotrophin (HCG) and lactate dehydrogenase (LDH). However, the only way to definitely diagnose testicular cancer is by surgical removal of the affected testicle. While many other types of cancers are diagnosed by biopsy (removing a small piece of tissue from the tumour), cutting into a testicle could spread the cancer to other parts of the body. Hence the whole testicle needs to be removed if cancer is strongly suspected.
Testicular cancers may be seminomas or non-seminomatous germ cell tumours, depending on what cell type is found at examination of the cancer under the microscope.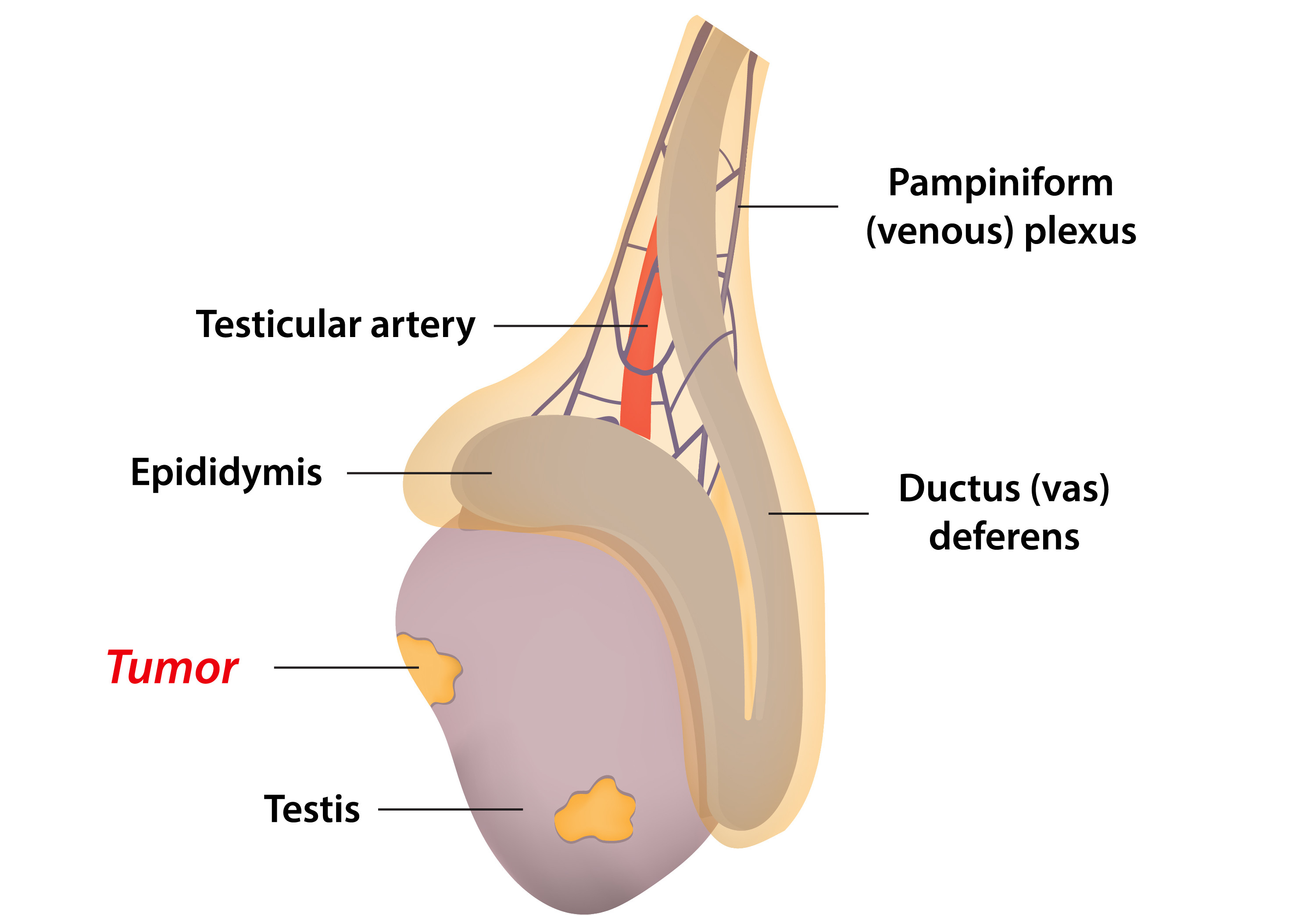 Chest x-ray and CT scans of the chest, abdomen and pelvis are done to determine whether and how far the cancer has spread. The stages of testis cancer are:
Stage I: The cancer is found only in the testicles.
Stage II: The cancer has spread to the lymph nodes in the abdomen or pelvis.
Stage III: The cancer has spread beyond the lymph nodes to other areas of the body such as the lungs or liver.
Surgery is the most common treatment for men with early testis cancer. The entire testis is removed through a groin incision (radical orchidectomy or orchiectomy). Following surgery for early testis cancer, some patients may need additional chemotherapy or radiation therapy.
If one testis is removed, the remaining testis is usually able to produce sufficient male hormone (testosterone) for the body so fertility and sexual potency should not be affected. However, fertility will be affected by additional chemotherapy or radiation therapy. Sperm banking should be considered to preserve viable sperms for future use in such instances should the need arises.
Men with advanced testicular cancer that has spread may receive chemotherapy upfront. This treatment may shrink the tumour or slow its growth before additional surgery is performed to remove the residual tumour masses. Side effects of chemotherapy which are injected into veins include temporary nausea and vomiting, mouth ulcers, hair loss, loss of appetite and tiredness.
You'll need regular checkups (such as every 3-6 months) after treatment. Checkups help ensure that any changes in your health are noted and treated if needed.
Testis cancer may come back after treatment. Your doctor will check for return of cancer. Checkups may include blood tests, a chest x-ray, CT scans, or an ultrasound.
Ravenna Urology Clinic
6 Napier Road #07-12, Gleneagles Medical Centre,
Singapore 258499

38 Irrawaddy Road #07-24, Mt Elizabeth Novena Specialist Centre,
Singapore 329563
T +65 64797822
F +65 64793989
24-hour Service: +65 65358833
Mon-Fri    9 am - 5 pm
Sat          9 am - 12:30 pm
Closed on Sun and Public holidays