Robot-assisted radical prostatectomy, or da Vinci robotic prostatectomy, is a minimally invasive surgical procedure in which the surgeon uses finely controlled robotic instruments to remove the cancerous prostate safely, while reducing the wound pain, blood loss and transfusion, and shortening the hospital stay.
Radical prostatectomy is a curative treatment for early prostate cancer as the entire prostate gland, seminal vesicles and/or the surrounding lymph nodes are removed. It also allows more precise confirmation of the stage of cancer based on the whole prostate specimen as biopsies sometimes underestimate the extent of the cancer. The success of the operation can be determined within several weeks with follow-up PSA tests.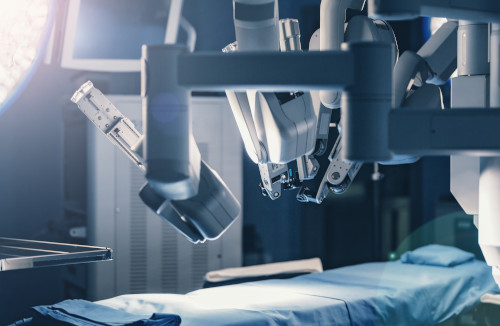 Historically, radical prostatectomy was performed using the open technique that may involve large incisions, blood loss and blood transfusion, long hospital stays and higher risks of post-operative side effects.
While sitting at the surgical console, Dr Sim controls the da Vinci surgical system, consisting of high resolution 3D cameras and micro-surgical instruments. The sophisticated robotic technology allows his hand movements to be scaled, filtered and effortlessly translated into precise movements that is less traumatic to the tissues.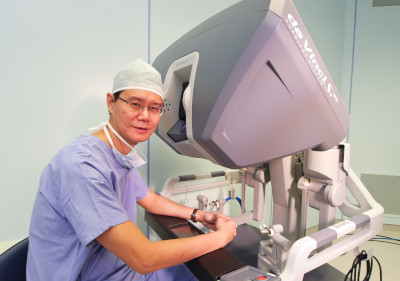 Unlike laparoscopic surgery, the robotic instruments can turn in all directions with 90 degrees of articulation and 7 degrees of freedom. The system also has improved magnified 3D views of the surgery than conventional laparoscopy, and allows fine surgery to be carried out through small 1 cm incisions. Delicate prostate nerves that surround the prostate and control continence and potency have a better chance of being preserved using this technique in the appropriately selected person. Many patients can return to their usual routines within 2-4 weeks with minor restrictions.
As one of the pioneering urologists in Asia involved in robotic radical prostatectomy since 2003, Dr Sim has had extensive experience in robotic surgery and has been involved in more than a thousand robotic surgery cases. He is often called upon to guide and help other specialists in complex robotic as well as open surgery cases.
Ravenna Urology Clinic
6 Napier Road #07-12, Gleneagles Medical Centre,
Singapore 258499

38 Irrawaddy Road #07-24, Mt Elizabeth Novena Specialist Centre,
Singapore 329563
T +65 64797822
F +65 64793989
24-hour Service: +65 65358833
Mon-Fri    9 am - 5 pm
Sat          9 am - 12:30 pm
Closed on Sun and Public holidays