Your bladder is a hollow organ in the lower abdomen. It stores urine that passes from each kidney into the bladder through a long tube called a ureter. Urine leaves the bladder through a shorter tube (the urethra).
Bladder cancer is a malignant (cancerous) tumour in the bladder with cells that spread by breaking away from the original tumour. They can spread through the blood vessels to the liver, lungs, and bones. In addition, bladder cancer cells can spread through lymph vessels to nearby lymph nodes. After spreading, the cancer cells may attach to other tissues and grow to form new tumors that may damage those tissues.
People with certain risk factors may be more likely than others to develop bladder cancer. These factors may include smoking, exposure to chemicals in the workplace, certain cancer treatment (such as cyclophosphamide), certain types of chronic bladder infections and certain patients with long term indwelling catheters.
Many people who get bladder cancer have none of these risk factors, and many people who have known risk factors don't develop the disease.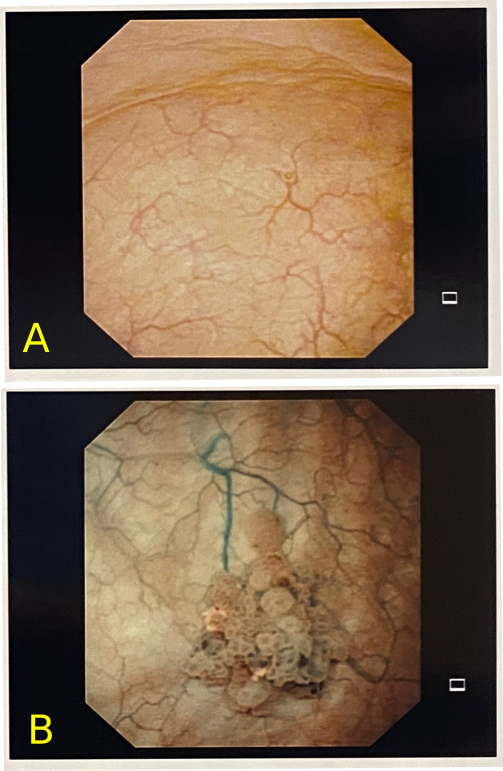 Images showing above a healthy bladder (A), and below one with cancer (B)
Bladder cancer may cause certain symptoms, including blood in your urine without any pain on urinating (painless haematuria), straining, urgency and frequency of urination. Advance cases may also complain of weight loss, tiredness (lethargy), or a lump or mass in the lower abdomen.
These symptoms may be caused by bladder cancer or by other health problems, such as an infection. People with these symptoms should tell their doctor so that problems can be diagnosed and treated as early as possible.
Tumours with higher grades on microscopic examination tend to grow faster than those with lower grades. They are also more likely to spread. We use tumor grade along with other factors to suggest treatment options.
These are the stages of bladder cancer:
Stage 0: The cancer cells are found only on the surface of the inner lining (urothelium) of the bladder. (carcinoma in situ).
Stage I: The tumour has grown deeper into the inner lining of the bladder. But it hasn't invaded the muscle layer of the bladder.
Stage II: The tumour has invaded the muscle layer of the bladder (detrusor muscle).
Stage III: The tumor has grown through the muscle layer to reach tissues near the bladder, such as the prostate, uterus, or vagina.
Stage IV: The tumor has invaded the wall of the pelvis or abdomen, but cancer is not found in any lymph nodes. Or, the cancer cells have spread to at least one lymph node or to parts of the body far away from the bladder, such as the liver, lungs, or bones.
Surgery is commonly used by our urologist for diagnosis and treatment of bladder cancer. Surgery may include transurethral resection of bladder tumour (TURBT), removal of part of the bladder (partial cystectomy), or total removal of the bladder (radical cystectomy).
Transurethral resection of bladder tumour (TURBT): We insert a cystoscope into the bladder through your urethra. A small wire loop at the end of the tool removes the cancer and burns away remaining cancer cells with an electric current. No external cuts or wounds are needed. For a few days after TUR, you may have some blood in your urine and difficulty or pain when passing urine.
Removal of part of the bladder (partial cystectomy): The tumour and the part of the bladder containing the tumour are removed. After part of the bladder is removed, you may not be able to hold as much urine in your bladder as before surgery. You may need to empty your bladder more often. This problem usually gets better with time.
Total removal of the bladder (radical cystectomy): We remove the entire bladder, nearby lymph nodes, and part of the urethra. In addition, we usually remove the prostate from a man and may remove the uterus from a woman.

When the entire bladder is removed, we create another way for urine to be collected from the kidneys and stored. You may wear a flat bag outside the body under your clothes (ileal conduit), or the surgeon may use part of your intestine to create a pouch inside the body (ileal neobladder).
Dr Sim has experience with hundreds of patients who had to have their bladders removed because of advance bladder cancers. He is one of the few senior urologists in Southeast Asia who is able to create a neobladder to allow urine to flow in the usual path without the use of a stoma bag in selected patients.
Dr Sim is able to perform partial and total cystectomy using robotic techniques in selected patients (da Vinci robotic partial cystectomy and robotic radical cystectomy).
Chemotherapy uses drugs to kill cancer cells. It may be used before or after surgery in advance stage bladder cancer patients.
People with early bladder cancer may receive a treatment called intravesical therapy. The treatment is BCG solution, which is a liquid containing weakened bacteria. The bacteria help your body's natural defenses to kill cancer cells in the bladder.
Several weeks after TURBT, the doctor inserts a tube through your urethra to put a liquid treatment in your bladder. You'll be asked to hold the liquid treatment in your bladder for about two hours.
BCG solution is usually given once a week for six weeks. This treatment helps keep the cancer from coming back. Maintenance treatment is needed every 3 monthly to minimize the risk of cancer recurrence and progression.
Radiation therapy uses high-energy rays to kill cancer cells. It may be given after surgery. Usually it's given along with chemotherapy for cancer that has invaded the muscle layer of the bladder. However, it is sometimes given instead of surgery and chemotherapy.
The radiation comes from a large machine. The machine aims beams of radiation at the bladder area in the abdomen. You'll go to a hospital or clinic 5 days a week for several weeks to receive radiation therapy. Each treatment session takes about 30 minutes. Although radiation therapy is painless, it may cause other side effects. The side effects include nausea, vomiting, or diarrhea. Also, you may feel very tired during radiation therapy. Your health care team can suggest ways to treat or control these side effects.