This refers to the delivery of targeted, controlled doses of the stored thermal energy in water vapor directly to the region of the prostate gland with the obstructive tissue causing the lower urinary tract symptoms (LUTS) secondary to benign prostatic hyperplasia (BPH).
BPH refers to the enlargement of prostate that encircles the urethra (urine passage) below the urinary bladder and secretes the bulk of semen.
Pre-operative assessments, including blood tests, electrocardiogram, chest x-ray and others, are needed to prepare you before anaesthesia and surgery.
Start low residue diet for a day prior to surgery
Do not eat or drink anything after midnight the night before surgery except for certain medications (eg blood pressure pills) with sips of water on morning of surgery
Aspirin (Cardioprin), Plavix, Ticlid (Ticlopidine), Warfarin and some traditional Chinese medications can cause bleeding and should be avoided 1 week before surgery.
Under intravenous sedation, the Rezum device attached to a cystoscope delivers a precise dose of water vapour into the prostate, where it condenses and transfers the stored thermal energy directly to the targeted tissue. This convective transfer of thermal energy to tissue is fast but also self-limiting, as the water vapour condenses back into its liquid state as it is dispersed through tissue, so the energy travels no further than its intended area of treatment. The enlarged tissue that causes BPH is located in the prostate transition zone and central zone and the tissue separating these zones provides a natural anatomical barrier that contains the vapour within the intended treatment areas.
The procedure takes about 15-20 min. About 90% of patients will find an improvement in their symptoms.
After the surgery, a prostatic stent or catheter is placed. Most patients are discharged the same day or next day after surgery. The stent is removed 1-2 weeks later in the clinic.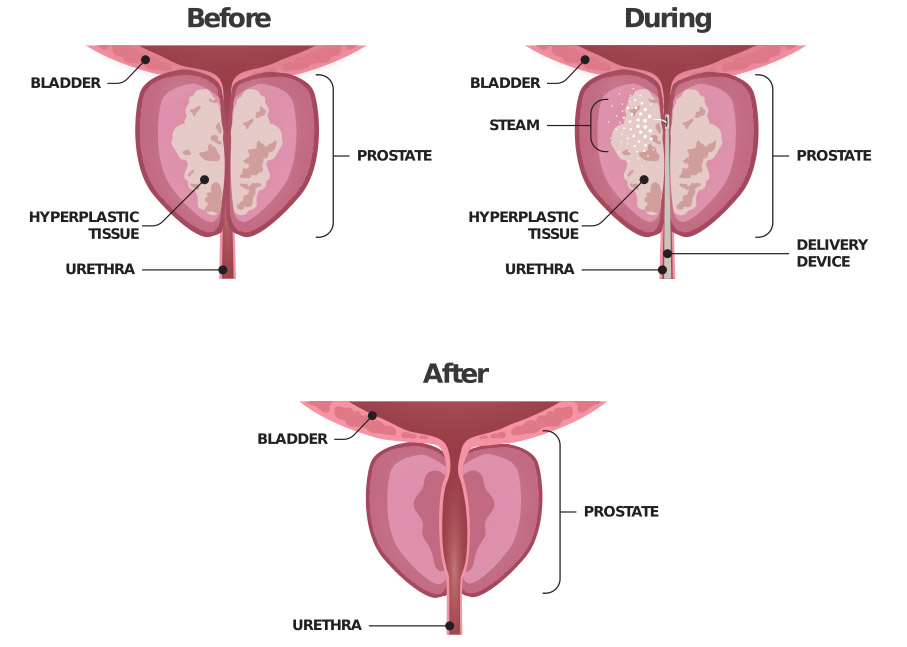 BLEEDING: Patients do not need transfusion during the surgery. Risk of transfusion <1%.
INFECTION: All our patients receive intravenous antibiotics before the operation to reduce the risks of infection (<4%).
RETROGRADE EJACULATION: The risk is low (<2%).
INCONTINENCE: Incontinence is rare (<1%).
ERECTION: Erection after this operation is rare (<1%).
STRICTURE: Urinary passage may rarely be narrowed (<1%)
POST OPERATIVE PAIN: Most patients will feel some mild discomfort and urgency immediately after the surgery. The catheter may also cause the sensation of urgency.
URINARY CATHETER: An intraprostatic stent or urinary catheter draining your bladder is left in place for about 1-2 weeks.
BLOOD IN THE URINE: This is expected in the first few days. Occasionally, some patients develop blood clots after surgery. If this happens, please inform the clinic.
DIET: Most patients are able to tolerate liquids the same day and can start on a normal diet the next day.
AMBULATION: We encourage our patients to get out of bed the day after surgery to help prevent blood clots from forming in your legs.
PERSONAL HYGIENE: There is no restriction on showers. There are no stitches to remove.
ACTIVITY: We encourage our patients to take daily walks. Prolonged sitting or lying should be avoided as this can increase your risk of blood clots forming in the leg veins and chest infection. You should avoid driving for at least 2 weeks after surgery. Heavy lifting or strenuous exercising is not advisable for 6 weeks.
DIET: While there is no specific restriction, we do encourage our patients to drink plenty of fluids.
MEDICATIONS: You can resume your usual medications after surgery except antiplatelet or anticoagulant (aspirin or other blood thinners).
There is usually an improvement in the urine flow after 2 weeks, with further improvement up to 6 months. However, you may still pass urine frequently for 2-3 months. Some patients may not be able to empty their bladder completely because of bladder weakness. They may require a longer period of catheter use until their bladder recovers.